Are Fitness Trackers Accurate?
What did the 2017 study conducted by Stanford University reveal about activity trackers? - find out below.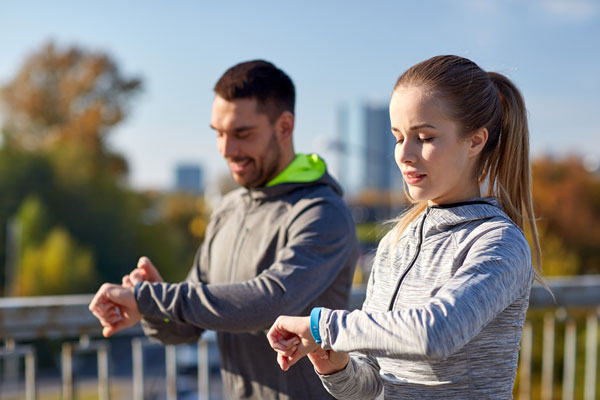 In an age where wearable technology is becoming increasingly popular, it's arguably easier than ever to keep track of your fitness progress. Thanks to their ease of use and ability to help guide you on the right path when it comes to staying in shape, it's easy to see why fitness trackers are so popular. Yet, even wearables from some of the biggest brands on the market including Garmin and Fitbit are often scrutinised, with many people left wondering if their fitness tracker is measuring their energy output, calories burned, and heart rate accurately. So, are fitness trackers all they're cracked up to be? Or, are they just another trend that will soon die out? Find out in the following article. What does the science say? A 2017 study conducted by Stanford University examined seven different wristband activity monitors including the Fitbit Surge, Apple Watch, and Samsung Gear S2, with evidence pointing towards the accuracy of the devices in terms of heart rate measuring (within 5 percent for six of the devices). But, when it came to measuring energy expenditure, they struggled to paint an accurate picture. The findings of the study concluded that even the most accurate was out by a staggering 27%. So, this all but confirms that consumers often don't get reliable data from their fitness trackers. So, is it really worth investing in one? In the next section, we'll answer that very question. Is it worth buying a fitness tracker? Considering that fitness trackers seem to be all the rage these days, it's clear that they won't be disappearing any time soon. An increasing number of people are choosing to make fitness a part of their lives, whether it's for health reasons or aesthetic purposes. Whatever the case, using a fitness tracker is a great way to track your progress. Evidence suggests that fitness trackers aren't as reliable as they ought to be. But, the data provided by them certainly gives consumers an incentive to continually push themselves to get more steps in and keep an eye on their heart rate throughout the day. So, it would be inappropriate to brush them off altogether. Conclusion Even if fitness trackers give an inaccurate overview of your daily number of steps, there's certainly no denying that they are an incredibly useful tool when it comes to encouraging people to exercise more. So, in that regard, they are most definitely beneficial for consumers who are simply looking to get in shape and get more steps in each day. However, the accuracy of many fitness trackers is certainly questionable, particularly on some of the cheaper products on the market. So, if accuracy is something that's particularly important to you, it might be worth investing in a fitness tracker which has a solid heart rate monitor and GPS. But, even then, you won't be able to enjoy complete accuracy when compared to medical-grade equipment. With that being said, the fact that fitness trackers seem to be encouraging people to exercise more can only be a good thing.
Our first community target is 1 Million Miles, make yours count!
Log a run now