The benefits of a good warm up
Many of you may forget this simple task before you set out to do your exercise. This is a decision that you may regret the next day, when your muscles ache and walking seems like an effort.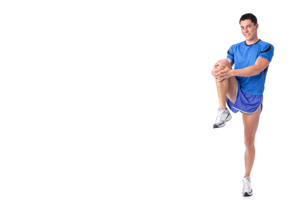 One of the most important thing to do before you set out on your jog, is to warm up. This could be a few stretches here and there or an all out warm up. Many of you may forget this simple task before you set out to do your exercise. This is a decision that you may regret the next day, when your muscles ache and walking seems like an effort. Here at Jogging Buddy we aim to inform you on the reasons why you need to warm up and the many benefits that it brings. One of the UK's leading Personal Trainers and co-founder of Action Boot Camp Paul Eaton has these top tips on why the warm up is important: "The warm-up should prepare you mentally for what you are about to do in the session." 1: You will start to get your energy systems working - when you first start running your muscles are immediately demand energy to operate which basically comes from the phosphate energy system gradually transferring to the aerobic system after a few minutes depending upon your age and fitness level. This is why when you first start running you experience breathlessness until you settle into a rythmic stride pattern. A warm up can pre-empt this and get your energy systems firing up. 2: You are preparing your muscles to do the work - By imitating the type of workout that you will be doing in the warm up you are preparing yourself both mentally and physically for what you are about to do - the neuromuscular pathways from your brain are transmitting messages to your energy systems and your muscles and firing them up - it's a bit like starting up a car that has stood idle for a while - it turns over slowly at first and then after a few minutes you put the choke back in and it ticks over smoothly and in time - you're are doing the same with your body - warming up the circuitry so that everything is communicating and operating at it's optimum level - ready to go out for a run 3: You are lubricating your joints it allows the joints especially ankles, knees and hips for running to move freely and without friction. By actively moving the joints you are warming the synovial fluid up to operating temperature. 4: You are getting mobility in your joints - through preparing your muscles and joints prior to running you will be increasing range of movement and flexibility through the join- improved mobility will enhance running technique that can be restricted by inflexibility and poor range of movement. 5: It helps to prevent injury - quite simply if you go straight into a run without warming up you are putting your body at risk of injury from muscle pulls or tears. 6: Older people will take longer to warm up. This can be true for most people as they age - we need a little longer to get the engine running smoothly. With age it may take a little longer for the energy systems to fire up to fuel the muscles for a run. Paul adds: "Plus if you do static (on the spot) stretches before your workout you will lose power, dynamic stretches (moving) will enhance your power." CMS Fitness courses, a government funded and commercial health and fitness-training provider also give us their tips on why warming up before exercise is a good idea. They say a warm up "increases blood flow to muscles prior to work out to reduce EPOC (excess post oxygen consumption), improves range of movement during exercise and prepares the body for exercise." CMS Fitness also adds "It ensures muscles are more responsive during exercise and reduces the risk of injury." So there you have it. Warming up is an extremely beneficial task to do before exercise and something that should not be ignored. So the next time you are about to step out and go for a jog, ask yourself have I warmed up yet? If the answers no, step back in the house and get stretching. You wont regret the decision.
Our first community target is 1 Million Miles, make yours count!
Log a run now